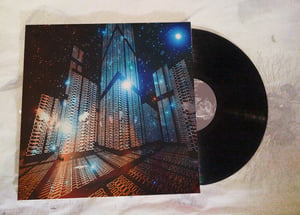 $

15.00
WE PRESSED A LIMITED RUN OF 300 'ANGELUS' MIXED COLOR VINYL RECORDS, NOW AVAILABLE AT HOGWILD RECORDS IN SAN ANTONIO, ONLINE AT www.solarundergroundmusic.com, AND AT OUR SHOWS.
Angelus
Released January 2008
Recorded at Rhapsody Street Sutdios, Sixth Street Studios, Hollywood Studios (all in San Anotnio, TX) by Jason Ybarbo
1. Angela Awake 4:51
2. Triggers 4:07
3. All Heart No Head 4:08
4. Calm Little Center 3:41
5. Purple Eyes 3:41
6. Jelousy Dance 5:44
7. Urban Hope 4:16
8. Influential Devil 3:47
9. Angela Asleep 3:48
10. IO 3:50
"This album took two years to create and has changed into many beasts along the way," read the liner notes (aka the sheet of ultra-thin printed vellum the CD comes wrapped in) for Pop Pistol's debut album. If you listen closely, you can feel the prolonged birthing process in the music and begin to get the sense that every measure's been fretted over, each note tweaked until it resonates exactly the way the band wanted it to.
Live, Pop Pistol's firepower comes mainly from frontman Alex Scheel's meticulously noisy guitar-playing. Scheel generates feedback with the same precision others play a glockenspiel and mashes effects pedals like his guitar's hiding out from the mafia. On several songs on Angelus, however, the guitar sounds more like a second fiddle to ethereal keyboards (played by Scheel and bassist George Garza) and glitchy electronic sampling (credited to Scheel, Garza, and Gonzalez). "Purple Eyes," "Angela Asleep," and "IO" match Scheel's emotive voice to unfeeling bloops and malfunctioning drum machines for an effect reminiscent of Thom Yorke's Eraser. But the ax (wielded more like a scalpel) cuts through the more visceral tracks: "All Heat and No Head," "Calm Little Center," and "Influential Devil" all rock like they predate the PowerBook — studied, melodic guitar playing and knotty low end. The best songs on Angelus, though, are cyborgs. "Angela Awake," "Triggers," and "Jealousy Dance" meld live instrumentation with technology to form a cogent transhuman whole. Most impressively though, all of it — Scheel's overdubbed guitars and multi-tracked vocal harmonizing, Garza's intricate bass lines, two guys playing keyboards and three guys twiddling knobs — serves the songs. There's not a sample out of place or a superfluous effect to be found. Those two years sound well spent. — Jeremy Martin, San Antonio Current